$4.9 Billion – Defective Vehicle Design
Posted in on January 30, 2014
"GM was well aware of the safety problem'" said Mark P. Robinson, Jr. "The key to winning the punitive damages was a company memo that spelled out cost concerns over correcting the safety problem."
Six people were badly burned in a fire following a rear end collision. In a suit against the manufacturer of the vehicle' a Los Angeles County jury awarded the plaintiffs $4.9 billion' finding that the fire was caused by defects in the vehicle's design. Robinson Calcagnie, Inc. was co-trial counsel with Greene' Broillet' Panish and Wheeler' and Carl Douglas.
GM Case a Win for O.C. Law Team
Saturday' July 10' 1999
By John McDonald
The Orange County Register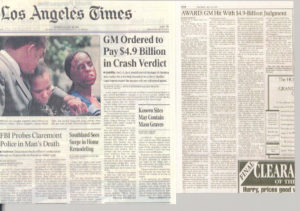 NEWPORT BEACH — Big cases are nothing new to the Robinson brothers' the Newport Beach law partners who represented one of the plaintiffs in Friday's $4.9 billion verdict against General Motors. Jeoffrey Robinson' 44' of Coto de Caza, prosecuted 35 murder cases' including some of the most notorious killings in Orange County. Since leaving the District Attorney's Office six years ago' he has taken to representing the families of murder victims such as Jane Carver and Denise Huber. Mark P. Robinson' 54' of San Juan Capistrano, won one of Orange County's most famous civil judgments' a $128 million verdict against the Ford Motor Co. in a landmark case involving an exploding Pinto gas tank. The elder Robinson is the president of Consumer Attorneys of California' one of the state's most influential lobbying groups. He also represents Los Angeles County in a suit against the tobacco industry. He is considered to be close to Gov. Gray Davis.
Courtroom Experience
The Robinson brothers believe it was their experience in the courtroom that led lawyers representing the victims in the explosion of a Chevrolet Malibu gas tank to ask them to help try the case.
"Jeoff has an unbelievably natural sense of jurors and courtrooms'" said Orange County Senior Assistant District Attorney Chris Evans. "I supervised him' but I ended up learning more from him than he learned from me." The Robinsons represented Jo Tigner' who accepted a lift from her friend in 1993 and less than a block later suffered devastating burns when the 1979 Malibu's gas tank exploded after the car was struck from behind.
"GM was well aware of the safety problem'" said Mark Robinson. The key to winning the punitive damages was a company memo that spelled out cost concerns over correcting the safety problem' he said. Jeoffrey Robinson said GM hired Kenneth Starr to block the use of the memo in court. The memo' he noted with some pride' was similar to one his brother found in the Ford Pinto case. The verdict will undoubtedly be appealed' Mark Robinson said. But the size of the judgment itself is a victory. "What I think we have accomplished here is that the chairman of the board of General Motors is going to wake up tomorrow and see his verdict when he reads the Detroit Free Press. For him' it will clearly be a shock."
Related Links